8 of 10 – Buying Your First Didgeridoo
What to look for when buying your first didgeridoo
We're very excited you're here and looking to buy your first didgeridoo.
When you buy your first didgeridoo, all of the choices can be overwhelming. This video will help make it easier to find out which one is right for you.
The simplest way to start narrowing down your decision is by choosing whether you like natural finish or painted finish.
You can head over to our online store and start looking at all the different options we have here.
Once you're there, go ahead and click on a didgeridoo that you're interested in.
You can view different details of the didgeridoo such as the key, the length, the weight, the type of timber, and what type of mouthpiece is on it.
Next to those details, you can click on the sound clip of us playing that specific didgeridoo at the shop. This way you can be guaranteed that you know what the didgeridoo looks like and sounds like before you buy it.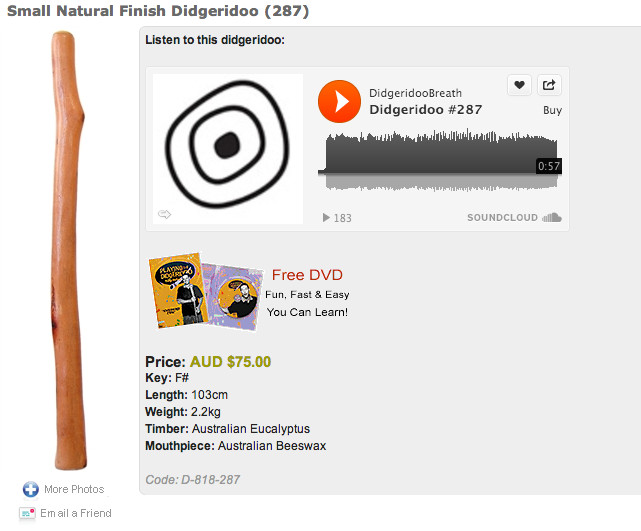 We also add in some more information about the didgeridoo under the image. You can learn a little more about it there.
Once you're browsing around checking out all the different details of didgeridoos, it's just a couple clicks away before we're packing up your didgeridoo and sending it on it's maiden voyage to you!
If you still can't make a decision after narrowing down your didgeridoo, then you can put it in our hands and purchase a didgeridoo starter pack.
We'll go into our didgeridoo forest and select the absolute best didgeridoo we have in the category of didgeridoo you want and we'll pick it up, feel it, and play it to make sure we're happy with it. Once we do that, we'll ship off to you and let you know it's on the way.
If you ever have any questions on purchasing your first didgeridoo or aren't 100% sure which one to buy, you can also contact us here:
Didgeridoo Breath
Address:
6 Market St, Fremantle, WA, 6160, Australia
1 minute walk from Fremantle train station!
Phone: 
Within Australia (08) 9430 6009
International +61 8 9430 6009
We're open 7 days, the current time at the shop is on the Contact Us page on the Didge Breath website.
Email:
Key Points
Choose whether you would like artwork or natural. This splits your selection in half
Then pick what sound you want. Listen to the sound samples (each product on DidgeridooBreath.com has a sound sample)
Then inspect each didgeridoo. Move your cursor over the photo to zoom in and check out the didgeridoos in more details. Some of the higher end didgeridoos have multiple photos, 360 degree photos and videos.
If you're still not sure, pick the Didge Starter Pack. When you do that, one of our experts from the shops runs down to the didgeridoo forest in the shop, plays them to find the best one currently in stock of that category, brings it upstairs and ships it off to you.
Let us know if you're stuck, post a question in the comments section below.